If you know me, and thank fuck you don't, you'll know that I'm actually surprisingly into games you can play with just a couple of keys on the keyboard. Is there any better way to kill some time in the brief gaps of freedom you have not just from obligation, but from conscious thought as well? There really isn't, and I'll fight you if you say otherwise. But when people come up to me on the street asking for autographs, without fail they always ask me one simple question as well: "are there any good, easy-to-play games that ALSO feature horny ninja girls who like shoving their fingers up boys' butts?" It's a little alarming, if I'm honest, but I'm happy to announce to you and all those hyper-specific weirdos that the answer to that question is now "YES"! Let's take a look at Runaway Ninja: Mischievous Arts of the Kunoichi, a game that'll both scratch your casual gaming itch AND help you get off to some top-tier soft femdom content. Also, translation is hard work, so you'd better be grateful to DLsite, or I'll get angry. You won't like me when I'm angry… I cry. A lot.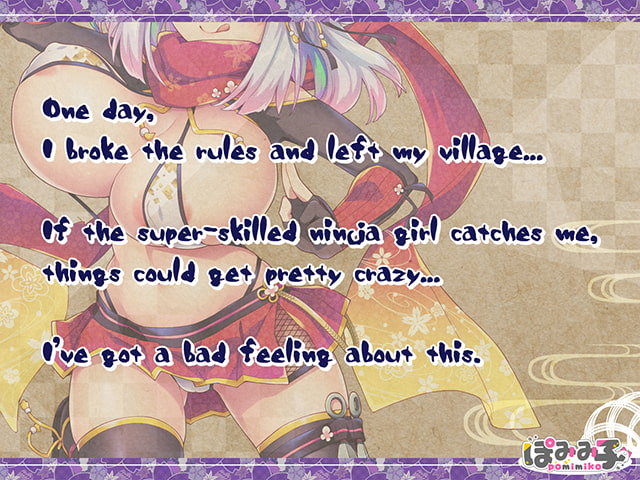 First things first: Presentation. Nobody wants to play a game that looks and sounds like shit, do they? Not unless it's for a Youtube video, I guess. But when you play something straightforward and lighthearted like this, atmosphere is pretty important. You wouldn't want to be running and jumping while trying to hide from a giggling ninja girl in some awful nightmare realm made of roiling sinew, would you? Of course not. You want the sun in the sky, cherry blossoms in bloom, and old-timey temples standing tall in the distance. And that's what you get here. It's a cute world that matches Pomimiko's charmingly peppy art, and there's even some appropriately Japanese-sounding synth music to get you in a fun, frantic state of mind. Even the pixel art is big and beautiful, meaning you can easily plan your escape, but also enjoy the action when you fail. But we'll get to that. For now, just know that this is a light and breezy game that's skillfully rendered in a light and breezy way.
"But Victor," you whine, whinily, "if this is a game, how does it play?" Why, I'm glad you asked (so I don't have to think of a better transition). The basic answer is "well". But to expand a little bit, it's a fast, frenetic, arcade-style sort of game where you have to use everything at your disposal to avoid getting grabbed by the very horny kunoichi who's after you. And by "everything at your disposal", I mean "running and jumping". It's more than enough, really – if you're good. The game isn't quite as easy as it sounds, after all, but with a little practice you'll start to notice yourself doing better and better. But your opponent has a few more tricks than you… She is a proper ninja, after all. Said tricks include things like turning red and getting faster (classic ninja technique!), plus the ability to create clones of herself and even teleport around the screen! Keep on your toes and you'll get out unscathed… but you may not WANT to escape after I tell you what happens when you fail…
Finally, I've arrived at the reason you're all here. The porn. I mean, what's a hentai game without any hentai? Runaway Ninja may be short, but it's sure to whet your appetite for all kinds of fucky femdom fun. Get caught and you'll be treated to some strikingly-animated (and dare I say even a little charming) pixelated sex animations, the nature of which changes every stage. If you can shake off your attacker, hey, good for you, but if you can't, then it's GAME OVER… and the real show begins! Here you'll be treated to an up-close-and-personal view of the action, which includes such delights as blowjobs and cowgirl sex, and even some kinkier content like anal fingering and armpit-sniffing. If you're one to just give in and let a lady do whatever she wants, you're sure to find a lot to enjoy here. And just to drive the point home, I'd like to reiterate how beautiful Pomimiko's art is. It's not often femdom content like this gets illustrated with such flare. There's a liveliness to the posing and the colors that makes everything POP… just like your dick, out of your pants when you start playing this game. Try not to finish too early, though… fun secrets await for those skilled enough to escape!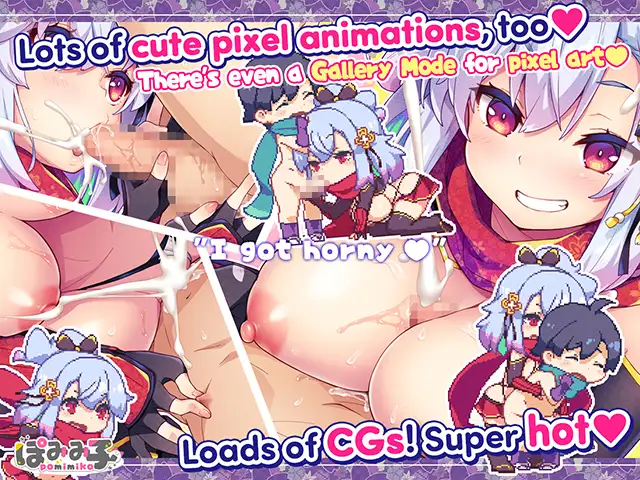 I would be remiss if I went this whole article without mentioning Pomimiko, the singular talent behind this game. And I do mean "singular" – not only is she unusually accomplished, but she's also the only person who worked on Runaway Ninja. That's right: all art, programming, direction, and even voice acting is by the same person. Can you believe the skill and follow-through it takes to do something like that? Pomimiko has been quite active as an artist and a game developer for some time now, and with such a colorful, expressive style, I'd say she's sure to appeal to just about everyone reading this. And again, she even did the ninja girl's voice! That is dedication right there, so why not show her some love?
Check out POMIMIKO's other stuff here!
And why not give her a follow on Twitter?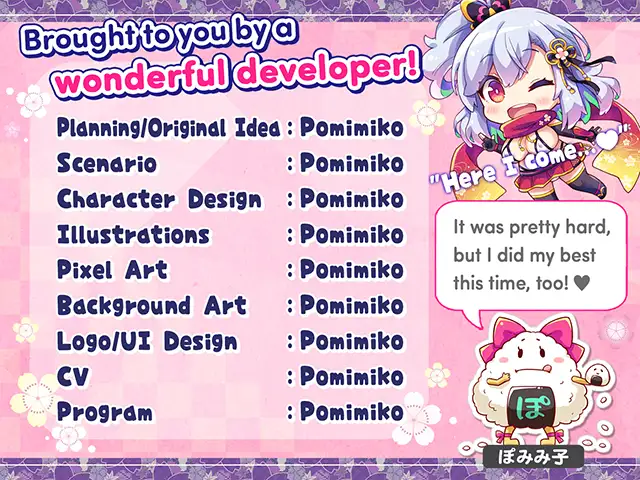 As I type this, the sun has just started to peek through the clouds, the temperature has arrived at a pleasant 75 degrees Fahrenheit, and I have the window open and am getting a nice, gentle breeze while I write. And you know what, I'd say that's the perfect time to experience Runaway Ninja. You might start to sweat a bit as the titular Kunoichi's pursuit heats up, but in a general sense you're in for some upbeat erotic fun that doesn't ever get TOO terribly difficult. It's the perfect game for early summer, when you don't have the motivation to do much else but space out, vibe, and maybe get a little handsy with your privates. Good timing on the circle's part? Well, no, because the Japanese version came out in December… but GREAT timing on DLsite's part for getting an English version out when the weather's just right for this sort of thing, and on my part for telling you about it. You can thank me later. But you can thank Pomimiko now! Then give Runaway Ninja a try – you're in for quite the great escape!
Check out the official DLsite Discord to trade shinobi secrets!