Ah, Touhou Project. The absolute pinnacle of doujin. It symbolizes everything that's great about Japanese indie games, and really everything that's great about indie media as a whole. Creator ZUN published the first game at Comiket in 1997, and it's only gotten bigger from there. The bullet hell shooter series is expansive enough on its own, but ZUN's attitude toward unauthorized use of his characters (his philosophy is basically "go for it, my dude") has made the IP as a whole into a legendary wellspring for doujin creators of all types. There are Touhou fan games, Touhou dolls, and even piles upon piles of shockingly good indie metal based on Touhou. It's inescapable if you're interested in doujin content, and of course that extends to hentai as well. So crack those knuckles, fire those bullet barrages, and put on your fanciest little headgear – it's time to look at some Touhou doujin games.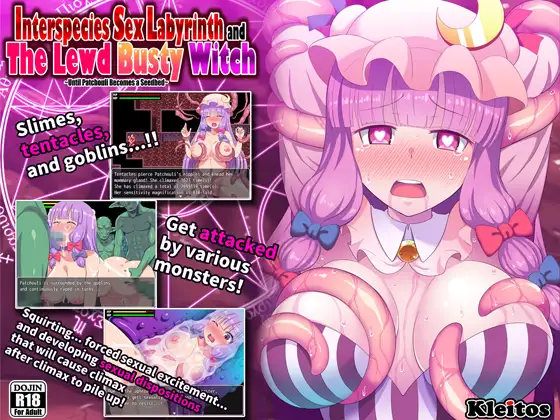 We're going to kick this off with a rather ludicrously-named game starring Patchouli Knowledge, a rather ludicrously-named librarian. One of the many books in her domain has transported her to a mysterious, squishy cave of some sort, and the only way for her to get home is to use her wits and her magic to conquer the creepy cavern! Said magic has been suppressed a bit, by the way, thanks to the horrible hidey-hole's tainted atmosphere, so Patchouli's quest isn't exactly going to be easy…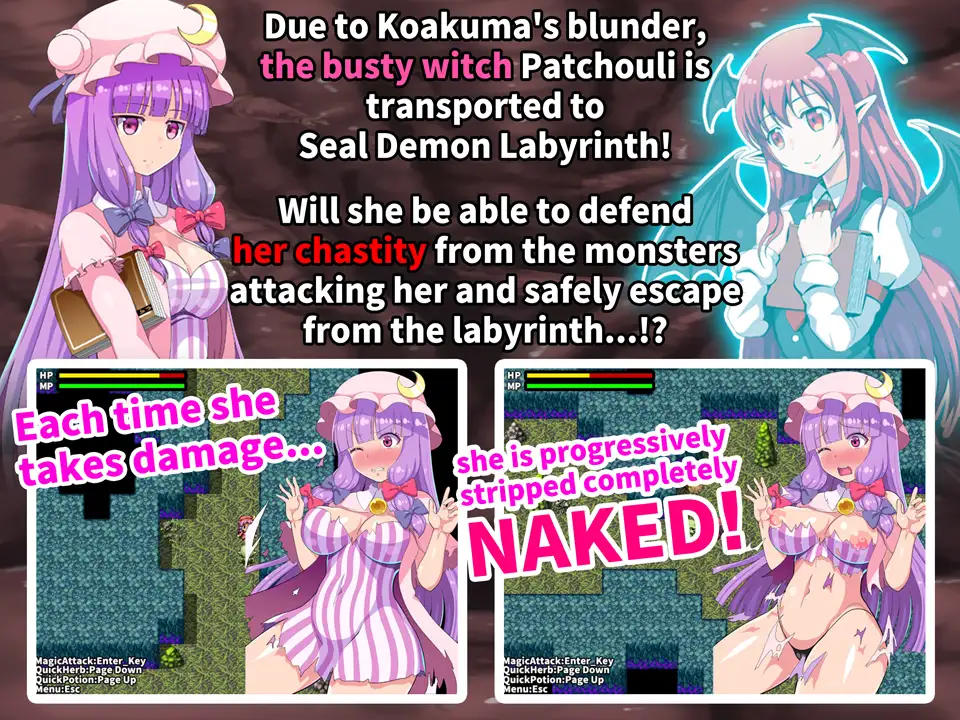 This is a rather familiar-looking RPG Maker game, but plays more like an action-focused dungeon-crawler. Run around the fleshy, pink environment exploding slimes and goblins as you go, and be careful not to get caught! Just kidding. You can totally get caught. Escape is rather easy, so you can just sort of kick back and enjoy the sexy, interspecies fucking. Which, incidentally, is a sentence I'm very proud to have written. Will Patchouli ever escape? Or will you, the dirty, filthy player, choose to let every monster in sight have a turn with our hapless, hatted heroine? I don't know, but I do know that you're in for some delightfully retro sex shenanigans.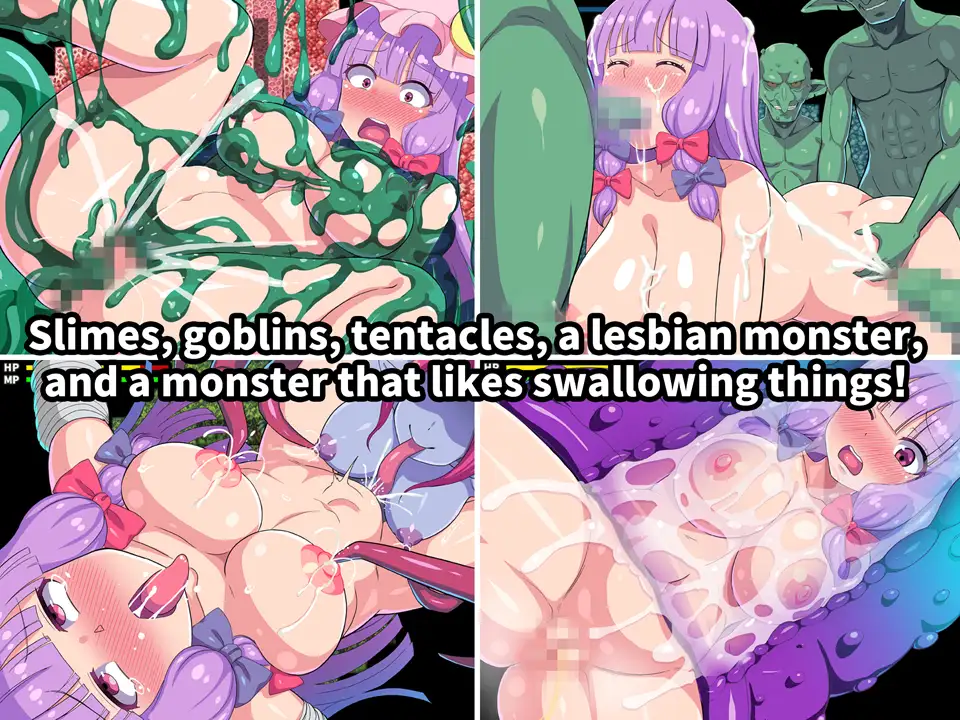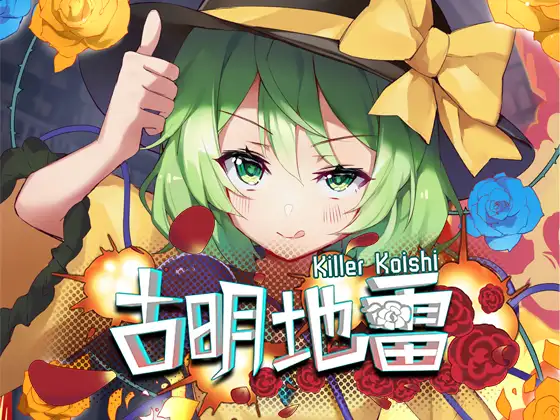 Here's a wacky one for you. This is a Minesweeper game, which is already a rare enough genre, but it's also a Touhou-based, adults-only Minesweeper game, making it a real gem hidden within DLsite's cavernous archives. One thing I noticed on my playthrough is that it's actually quite difficult in places. Sometimes you'll click a random square and see almost the whole board revealed at once, but those little remaining iffy patches are where you'll start to sweat. And there are even Touhou-style bullets that will come for your cursor. The difficulty only increases as things go on, too, so you're really going to have to earn your strip show!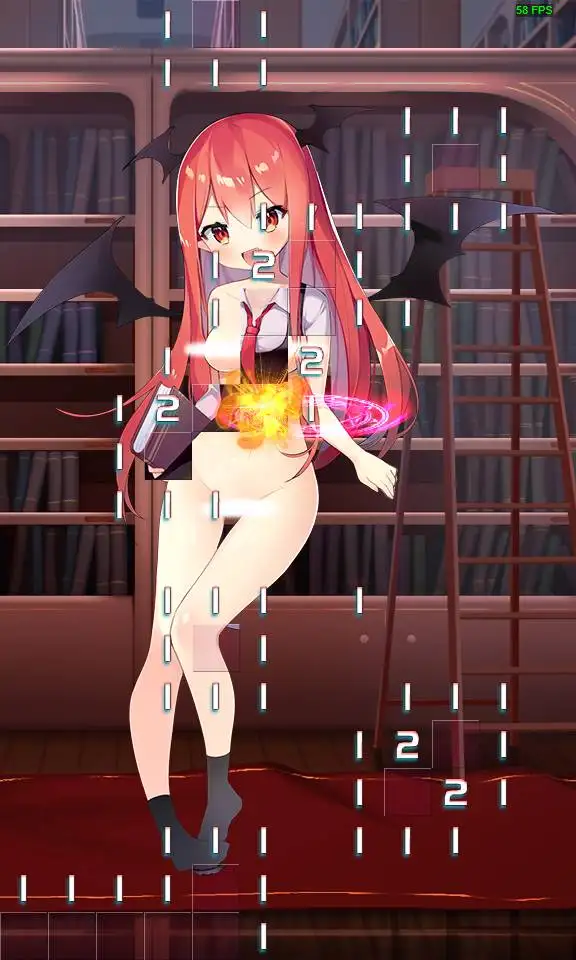 That's right, I said strip show. It's strip Minesweeper. Starring Touhou girls. Don't you love living in the future? Anyway, the art is rather good, and there's a real sense of care put into the presentation overall, so you'll definitely want to use that noodle on top of your shoulders so the one between your legs gets the lovingly-illustrated Touhou titties it deserves. There are nine different characters to undress, so even though this is something of a time-waster game, I definitely wouldn't call the time spent with it wasted!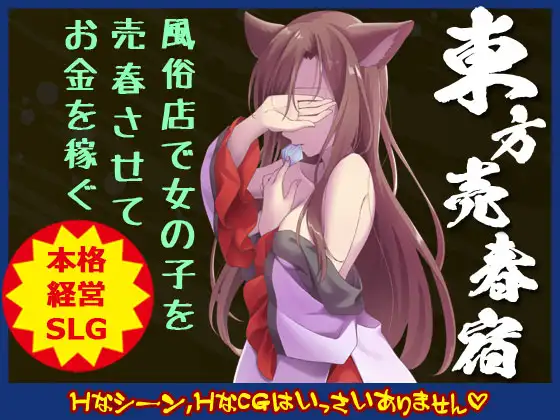 Hey you! Yeah, you with the shitty job and a mountain of debt! Ever thought of a career change? Well, why not run a brothel full of Touhou girls? That's sure to pay the bills. I'm kidding, of course, we're all condemned to a life of working misery, but you can at least enjoy all the Touhou sex work your heart desires in this game! Just boot it up, listen to the… painting of a Spanish monarch, or whatever he is, and get to building your filthy brand!
I'll admit the English is a little janky, but you'll figure things out. How hard can it be to run a brothel full of some of the most popular anime waifus ever, anyway? Well, if my first day's earnings ($0) are anything to go by, actually pretty hard. You can't just have the waifus, you need to promote! Always be hustlin', and all that nonsense. Who knows, maybe it'll inspire you to build your own suck-'n'-fuck joint IRL!*
*Do not do this.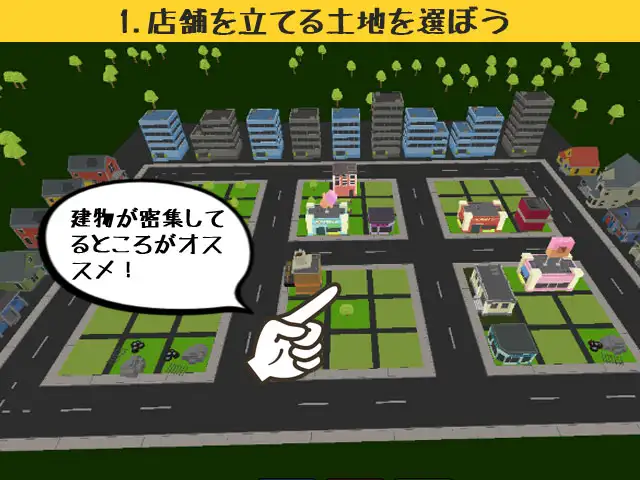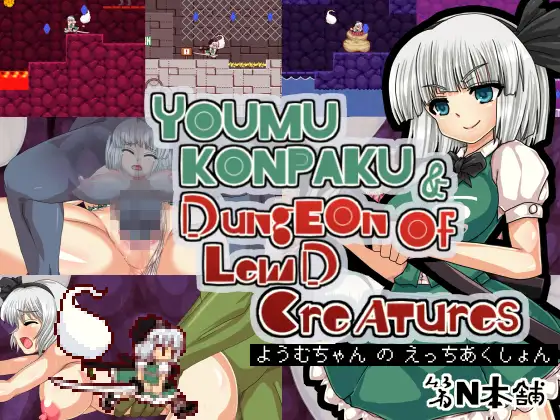 Simulations are very Cool and Good, but I can see you there, slavering like a rabid dog. You want some more ACTION, don't you? Well, here it is, in the form of a 2D side-scroller that sees Youmu running around a labyrinth full of lusty beasts. She's only got a sword to keep her safe, but that's more than enough. Hop, dash, and slash your way through the maze, but as you may expect, taking damage will rip Youmu's clothes. And getting defeated outright? Forget about it!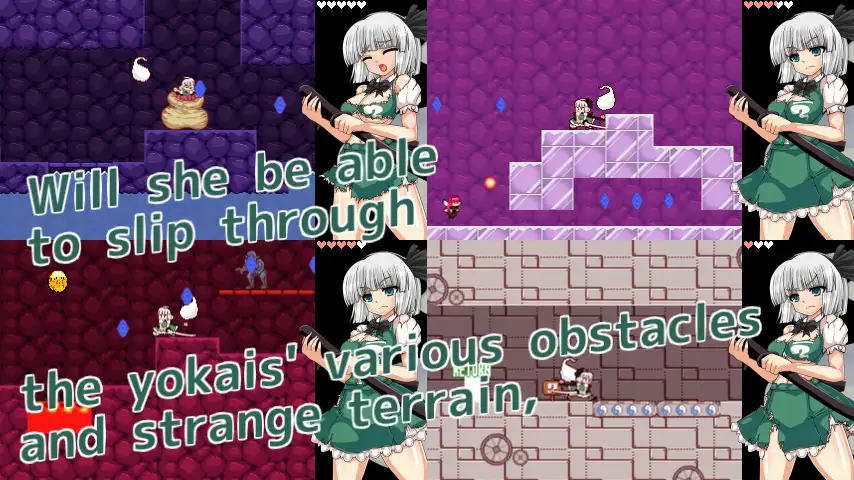 Actually, don't forget about it. It's pretty cool. Especially if you're into "girls getting fucked by a variety of fantasy monsters in increasingly outlandish ways". We've got slimes, we've got goblins, we've got distressingly big-dicked ogres… the whole gang's here and horny! H scenes are even somewhat animated, just to add that little extra something. Oh, and I should also note that the sprite work in this game is, frankly, adorable. When it comes to effort and passion, you can't beat Touhou fans.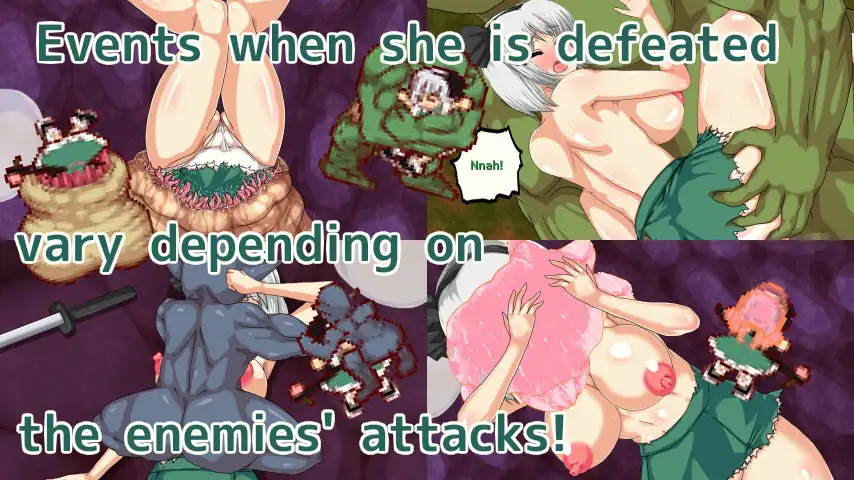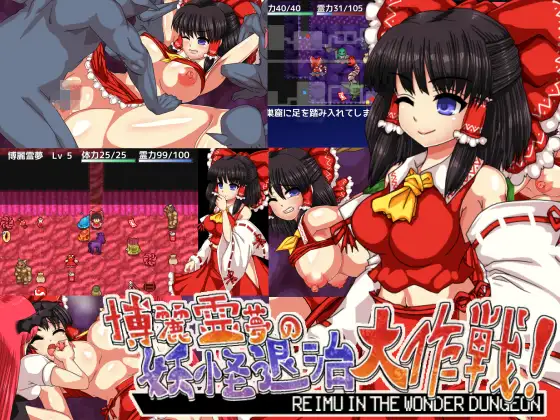 Speaking of effort and passion, here's yet another game from the same creator, this time in an entirely different genre! This one's a top-down roguelike in which Reimu comes face-to-face with a menacing tentacle monster… and loses. Badly. So badly, in fact, that the thing takes away all her items and powers, and holds her captive deep within its lair. Help her find her stuff, then set about escaping the dungeon and ridding the world of the slimy, pink menace once and for all!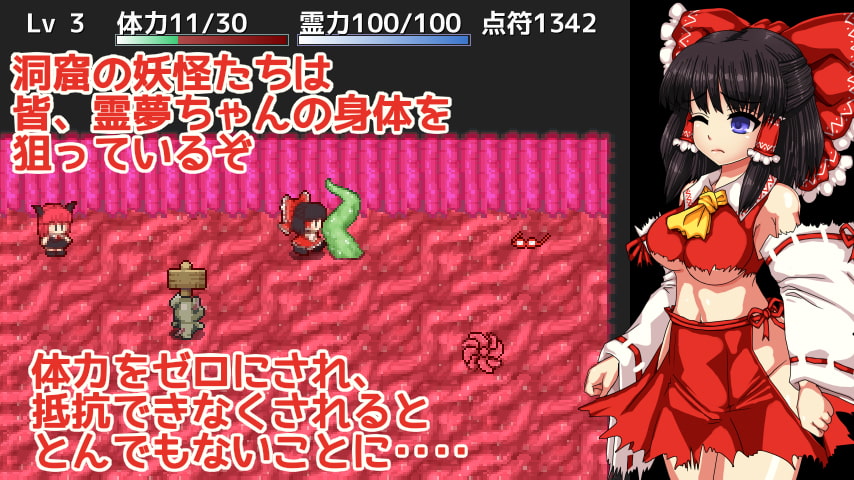 Reimu's pose art changes based on enemy attacks and traps, so there's a lot of eye candy as you advance through the cave. And hey, you know it's coming, but it bears mentioning anyway – defeat H scenes! Reimu's bound to fail a few times while regaining her strength, but try to think of it as a reward. For you, not her. She'll get there eventually. Such is the nature of the roguelike.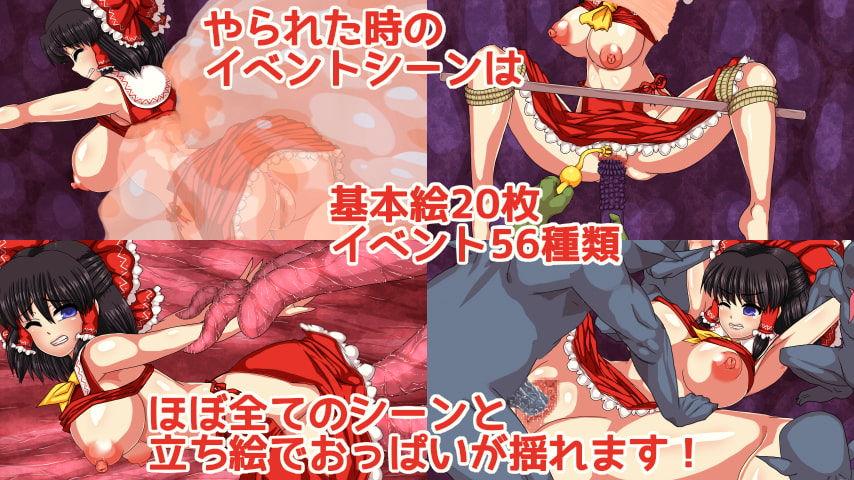 So there you go, a whole host of Touhou-inspired indie games that'll really scratch your "cute anime girls with nice headwear" itch. I'm always very impressed with the diversity of Touhou doujin content, and I hope I was able to show off some of that here. So many cute characters in such a loose setting means that the possibilities are truly endless… and I mean that, because Touhou's popularity is still holding strong. So thank you, ZUN, and thank you, doujin creators. You've truly made the world of indie media a better, more hat-rich place!
No, I won't stop bringing up the hats.
Click here for more Touhou porn!
And discuss your nicest hats on DLsite's official Discord server!